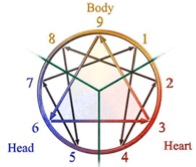 Enneagram Workshops and Coaching
"Who am I?" and "Why am I Here?" are the two crucial questions every human should be asking themselves. Many answers have been proposed over the course of human history and the Enneagram is a very practical and at the same time spiritual method for dealing with these questions. As a registered Enneagram Teacher with the Enneagram Institute I can offer, personal coaching, introductory information sessions and expanded retreats for exploring these questions and the implications that arise from seeing how you and your personality are structured and at the same time realize that we are not our persona (mask).
Announcements on forthcoming Enneagram workshops will be on the
News Calendar
link.
To contact me:
ahholdijk@gmail.com